Speech, Language, PROMPT,
Orofacial Myology, DTTC, Feeding Services
Evaluation and Treatment of Pediatric Patients
Motor Speech Disorders

Receptive Language

Expressive Language

Central Auditory Processing Disorders

Literacy/Early Reading Difficulties
"Thanks for all the amazing work you've done with T. When I think back at how much progress he's made since he started seeing you it fills me with tears and gratitude ;) I don't know where we would be if we hadn't been referred to you!!" Mom of 6 year old boy
Certified and Bridging Level Trained Therapists
PROMPT
Prompts for Restructuring Oral Muscular Phonetic Targets is a holistic and dynamic approach that incorporates the use of organized and systematic tactile (touch) input to the oral musculature to facilitate and/or improve speech production. It is a highly effective method for children with motor speech disorders.
Learn more about PROMPT by visiting promptinstitute.com

Apraxia of Speech
In order for speech to occur, messages need to go from your brain to your mouth. These messages tell the muscles how and when to move to make sounds. When a child has apraxia of speech, the messages do not get through correctly. The child might not be able to move their lips or tongue in the right ways, even though their muscles are not weak. Sometimes, the child might not be able to say much at all.
Does not always say words the same way every time

Tends to put the stress on the wrong syllable or word

Distorts or changes sounds

Can say shorter words more clearly than longer words.
Difficulty with fine motor skills

Delayed language

Problems with reading, spelling, and writing.
Late Talkers
Risk factors may include the following
A "Late Talker" is a toddler (between 18-30 months) who has good understanding of language, typically developing play skills, motor skills, thinking skills, and social skills, but has a limited spoken vocabulary for his or her age. The difficulty late talking children have is specifically with spoken or expressive language. This group of children can be very puzzling because they have all of the building blocks for spoken language, yet they don't talk or talk very little.
The following guidelines can help you determine if your child's vocabulary is appropriate for his or her age. If your child has not yet reached these milestones, he or she should be seen by a speech-language pathologist:
18 month olds should use least 20 words, including different types of words, such as nouns ("baby", "cookie"), verbs ("eat", "go"), prepositions ("up", "down"), adjectives ("hot", "sleepy"), and social words ("hi", "bye").
24 month olds should use at least 100 words and combine 2 words together. These word combinations should be generated by the child, and not be combinations that are "memorized chunks" of language, such as "thank you", "bye bye", "all gone", or "What's that?". Examples of true word combinations would be "doggie gone", "eat cookie", or "dirty hands".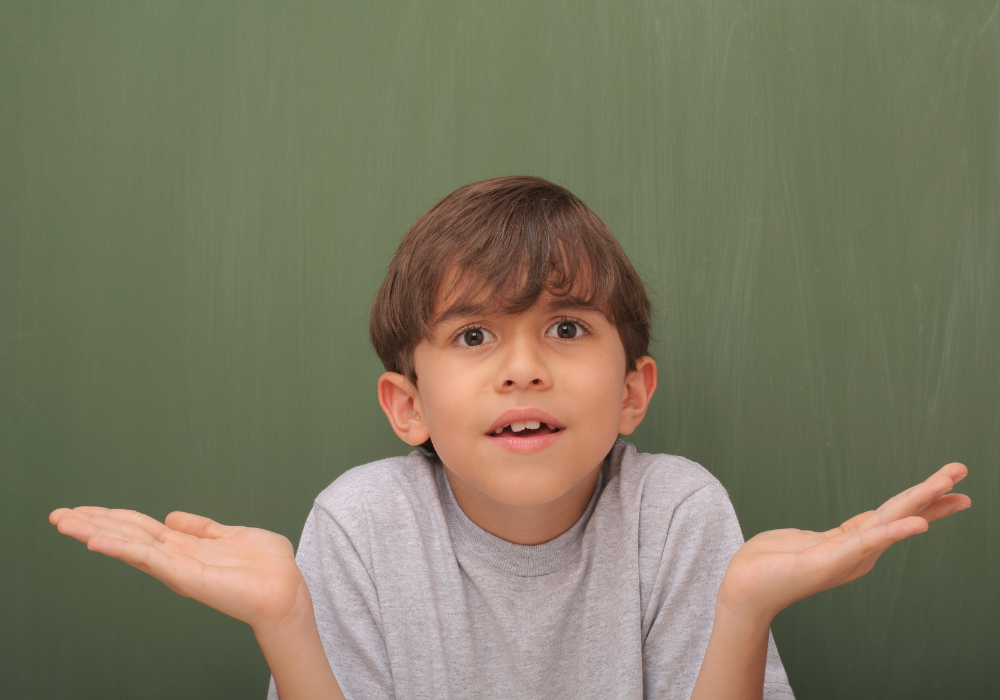 Orofacial Myofunctional Disorder
What is an OMD?
Orofacial myofunctional disorder refers to improper function of the facial muscles, tongue and mouth. OMDs may directly or indirectly affect facial growth and development, chewing, swallowing, speech articulation, occlusion, oral hygiene, stability of orthodontic treatment, facial esthetics and more. Several factors can contribute to OMDs, one being inherited muscle patterns. Another is airway obstruction.
Symptoms of OMDs
Symptoms of orofacial myofunctional disorders can be very obvious or happen over a period of time and be unclear. Certain habits or conditions can interfere with proper actions of orofacial muscles causing OMD. These muscles include cheeks, jaw, lips and tongue. When these muscles function incorrectly due to habits or conditions, it can lead to improper development. This atypical development causes the muscles to have incorrect adaptations and not work in balance which can cause a variety of problems.
Do you suffer from any of the following?
Mouth Breathing

Orthodontic Relapse

Chronic Tension

Mood Disorders

Jaw Pain
Toxic Oral Habits

Tongue Thrust

Chronic Headaches
Orofacial Myofunctional Program
Our Program is appropriate for children, teens and adults. Program goals are individualized and are meant to create new healthy oral habits. The benefit of healthy habits can include nasal breathing, a proper swallow pattern, favorable resting tongue position and preserving orthodontic results from this program.
This program is comprehensive and covers a variety of oral problems. This program helps reverse damaging habits, such as tongue thrust. This program can last from six months to a year. The objective of this program is to eliminate bad habits, demonstrate therapeutic facial exercises, develop proper lip seal and tongue placement and teach chewing and swallowing patterns to reinforce good habits. These goals will help the structures in the mouth stay in balance and habitualizing the learned behaviors is most important for long term success.
Let's Change Things
We are dedicated individuals who value the profession we have chosen. We understand that you are entrusting us with your child's cognitive linguistic, social emotional and physical sensory development. We are determined to provide the best intervention we are capable of each day to every child and family. We will go above and beyond to be a supportive partner in your child's progress.
Thanks so much for all of your help over the past few months. We all can't believe how much progress J has made with your help. And I'm also shocked at how comfortable he is with you – that doesn't happen often for him and is definitely a testament to your personality and warmth.

Thanks again.
My son Mitchell,who is autistic has been working with Michelle since he was two years old and is now almost sixteen. She not only is an incredible therapist but is creative in her sessions and always makes going to her office fun for him. When he first met her he could not make any sounds. She did a lot of prompt work with him when he was younger because he was very low toned and today he speaks in full sentences and can not wait each week for their hour long sessions. She is the best!!!"
Not quite sure how to thank you for such a fun, effective and 5-yr-old life changing session today. You have an amazing energy and warm smile that immediately makes kids feel comfortable. S can be stubborn and shy and I was insanely surprised at her willingness to participate. Says a lot about you.
Thanks for all the amazing work you've done with T. When I think back at how much progress he's made since he started seeing you it fills me with tears and gratitude ;) I don't know where we would be if we hadn't been referred to you!!
My son was 2 1/2 when he met Michelle. At that point, he had been in speech therapy for a few months and we were not seeing any progress and we started getting concerned. As soon as we met Michelle, not only did my son instantly connect with her, I knew inside she was going to make a difference in our lives. Literally, 6 months later it was like the flood gates opened. Our son started saying words and now at 3 he is speaking in full sentences. Every week they would master something new. His teachers couldn't believe the progress. It brought tears to my husband and I, finally we were able to communicate with our son. It was so hard, we knew he could understand us but Michelle gave him the tools to communicate. Words can't express how grateful we are to have Michelle in our lives. Our son (as do I ) looks forward to seeing Michelle every week. She is always working and pushing him to be the best he can be. Michelle relates so well with children, she has such compassion and is so patient. Every child I see who walks into her room is so excited to be there. In my eyes, there is no one better. I've told my pediatrician he can't recommend anyone else.
My son Elias first started working with Rachel when he was 3 years old, until the age of 8. She helped him both with his pronunciation and his language skills over the years, and we saw progress immediately.
Elias LOVED working with her, as she always found the right way to motivate and push him, through play. She adapted to his changing needs over the years and always kept him interested and happy. Even when we had to switch to remote sessions, she found the way to keep him engaged and learning, which was a challenge given his learning disabilities.

She worked with his teachers and school therapists to ensure that we all worked as a team. She was a sounding board for me over the years. When it was time to find an appropriate school for Elias, she has been a tremendous help, identifying the schools that would be appropriate, but even more important, as an emotional support to me to help me navigate the process.
I would strongly recommend to any family to work with Rachel, she is amazing!